Grace Church
Grace Church is Part of the Christian Reformed Church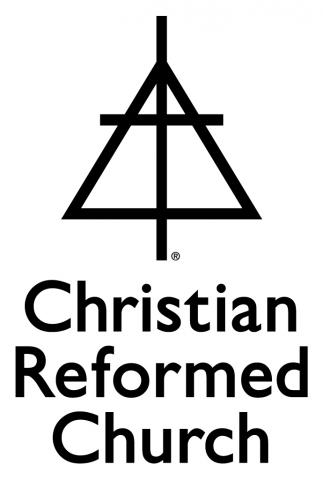 Beliefs
Below you'll find a straightforward list of the Christian Reformed Church's and Grace's beliefs. For a longer, more detailed list of specific beliefs and positions, follow the Resources links below.
We believe in the Trinity, that God is
One—Father, Son, and Holy Spirit. The Christian Reformed Church's logo to the left—it's the Trinity triangle with the cross (the symbol of Jesus Christ's death for our salvation).
We believe that the Bible is the inspired and infallible Word of God. Both the Old and New Testaments are the revelation of God.
We believe in the sacrament of baptism as an assurance that Christ's Spirit washes away our sin.
We believe in communion as a remembrance of Jesus' sacrificial death for all our sins, and we celebrate it monthly.
We believe in the power of evangelism. The Christian Reformed Church has missionaries all over the world, and Grace Church currently sponsors missionary couples in Nigeria and Lithuania.
We believe that one day Jesus will come again to judge those on earth and to make all things new.
History
We celebrate Martin Luther—his ideas for change in the early 1500s laid the foundation for the Protestant Church. But where Luther's teachings led to the Lutheran Church, the Christian Reformed Church embraces the teachings of another passionate Protestant reformer—John Calvin.
Calvin believed and taught that God is sovereign, that since before time began he has watched over all things and will continue to control and rule over his creation until time ends. Calvin also helped Christians understand and appreciate the biblical teachings of predestination, that we can take comfort in knowing that as believers in Christ, even through temptation and sin, we are destined for a heavenly afterlife when our time on earth ends.
Calvin's teachings quickly spread throughout Dutch communities in Europe, and over time, because of persecution, these communities came to America, settling in Michigan, the Midwest, and Canada. You'll hear and see some Dutch last names among our members, but our denomination no longer identifies as a Dutch church. We now enjoy an international presence with people in our own congregation from many different nations, cultures, and walks of life.
Resources
For more information and resources on Christian Reformed beliefs and structure, click on the links below.